A great future begins with a Bright Start!
104 S. 32nd Street, Mt. Vernon, IL 62864
Hours of service are 7:00 AM-4:00 PM
Bright Start will be following the most recent CDC guidance for child care centers. 
Due to the Covid resurgence in our community we will resume drop-offs and pick-ups at the front door.
Bright Start Early Learning Center provides outstanding childcare for children 6 weeks through preschool.  We offer a faith-based curriculum, and age-structured rooms that allow teachers to help children learn in a safe, loving environment through discovery and play.  Interested parents are invited to contact 244-2462.
Frog Street is a company built by early childhood educators, they understand that childhood is a period of incubation. With so much to learn and such a short period of opportunity, theyhave made it their mission to help teachers and caregivers make the journey both joyful and purposeful. 
Frog Street Threes provides intentional instruction in key areas of development so children ages 36-48 months can effectively continue on the path to kindergarten readiness.
The Frog Street Toddler program is designed around the latest scientific brain research and is comprised of 52 weeks of easy-to-use activities specifically created for children ages 18-36 months.
What you teach me birth to three will be what matters most to me.
What you teach me three to five will be what makes me grow and thrive.
Dr. Pam Schillere-
Frog Street Curriculum Author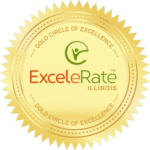 Bright Start Early Learning Center received the Gold Circle of Quality designation from ExceleRate Illinois, the state's quality recognition and improvement system for early learning and development providers.
ExceleRate Illinois helps families make more informed choices about their children's early learning. It establishes standards to help infants, toddlers and preschoolers develop intellectually, physically, socially, and emotionally. Additionally, it provides a framework for early learning and development professionals to identify opportunities to enhance their knowledge and skills.
IDHS 'Project Child' Childcare Assistance Program
Bright Start has a site contract with the IL Department of Human Services to determine eligibility for the Child Care Assistance Program.  This is a program that provides assistance to working parents.  We can determine your eligibility on-site immediately so your child can start receiving services.
Please visit the Department of Human Services website to check the copay charts to determine what your monthly copay will be. Please call for questions or further assistance.
1.  Call 618-244-2462 to ask for openings.
2.  Pick up our enrollment packet and tour our facility.
3.  For Project Child clients:
Pick up an application from Bright Start or Project Child office: 327 Potomac Blvd. Suite C, Mt. Vernon, IL  62864
There are 3 pages that need to be filled out by the child care center and returned to Project Child.
The parent/guardian is required to submit the Project Child application and other needed documents to the Project Child office.
4.  Bring back the completed packet, pay the required fees, and schedule the planned start date.
Private Pay clients are responsible for paying the $30 registration fee and first week's tuition.
Project Child clients are responsible for paying the $30 registration fee and can begin attending once the approval is obtained from Project Child.
Call For More Information
618-244-2462
Spero Privacy Policy
RPM 6.04 - Privacy Policy - Website (1)
"
Although Spero Family Services is a faith-based agency, programs are open and available to anyone fitting the service criteria without discrimination and regardless of faith or denominational background." 

2023 Richview Road | Mt. Vernon, IL 62864 | 618.242.1070 |